Top 10 Off the Beaten Path Destinations in the US
The US has plenty of travel destinations that rank amongst the most popular in the world – New York, Las Vegas, the Grand Canyon, Niagara Falls, Disney World, and many more.
But often, these places are tourist traps. Besides, you don't want to be with a million others always. Once in a while, it's good to be alone with nature or in a small town that's unique in some way.
Luckily, there are many wonderful off-the-beaten-path destinations in the US too. Here is a top 10 list to enjoy.
Off the Beaten Path Places to Visit in the United States
Affiliate links may be used in this post. I may receive a small commission at no extra cost to you if you use my affiliate link.
1: Denali National Park, Alaska
Rate this attraction:

238

37
Often called "the last frontier", Denali in central Alaska is really remote. You can visit this park only during the summer months. Take the Denali Star train or you can drive from Anchorage. The five hour road trip is going to remain etched in your memory for years. Denali is huge (bigger than Massachusetts), wild, and stunning. You can see grizzly bears, bald eagles and wolves. Try one of the cycling or hiking trails. Stay overnight at campgrounds. There are many of them in the park. And of course, there is Mt McKinley, which is the tallest peak in North America. Denali can be very cold, even during the summer, as it is on the edge of the Arctic Circle.
Address: George Parks Hwy, Denali National Park and Preserve, AK
Website: www.nps.gov
Also Read: Best Things To Do In Denali National Park
2: Glacier National Park, Montana
Rate this attraction:

266

34
This is another cold and remote offbeat destination. The snow-blanketed, jagged and glacier-sculpted peaks are going to tower dramatically over your head all the time. The meadows are rich in wildflowers. The stunning aquamarine lakes complete the pristine scenery. If you love wilderness and nature at its wild best, then you have got to visit the Glacier National Park at least once. It is a favorite for a lot of people, but you will never have a crowd here.
Address: West Glacier, MT
Website: www.nps.gov
3: Sleeping Bear Dunes, Michigan
Rate this attraction:

216

48
Sleeping Bear Dunes is a mere five miles from Empire in Michigan. This 2,000 year old dune is along Lake Michigan. It was formed by wind coming in from the lake. Standing at more than 234 feet, it's a huge dune and a prominent natural attraction with the local population. Climbing to the top is challenging and fun, but what's more enjoyable is the ride down the hill. Views are stunning from the top. You can bike or walk along the Heritage Trail afterwards.
Address: 6748 S Dune Hwy, Empire, MI 49630
Website: www.nps.gov
Also Read: Michigan Top 20 Attractions
4: Bastrop, Texas
Rate this attraction:

283

49
This is small town America at its best. It's nothing flashy like the big cities, but it is beautiful nonetheless. Just park your car at this sleepy little town and walk around to take in all the sights. There are golf clubs, a historic opera house, and a river walk that has been beautified. End the day at one of the many restaurants. Already thinking of a return trip?
Address: 904 Main Street, Bastrop, Texas 78602
Website: www.visitbastroptx.com
Also Read: Texas Top 20 Attractions
5: Rock City, Georgia
Rate this attraction:

367

31
This is a 200 million year rock formation just outside Chattanooga. See the 90 foot waterfall, gardens, and the suspended bridge. There are fairytale caverns for young kids. Don't miss the 1,000 ton balanced rock and Ruby Falls, which is the deepest and tallest waterfall in the world. Explore the trails winding through these attractions. From the top of Lookout Mountain, you will get a stunning view of seven states. There are many special events throughout the year, such as the Southern Blooms Festival, Summer Music Weekends, and the Enchanted Garden of Lights.
Address: 1400 Patten Rd, Lookout Mountain, GA 30750
Website: www.seerockcity.com
Also Read: Top 25 Tourist Attractions in Georgia
7: The Wave, Arizona
Rate this attraction:

235

35
Located in the Paria Canyon Wilderness of the North Coyote Buttes region, the Wave is a spectacular sandstone formation. It is close to the Utah and Arizona border. A lottery system restricts the number of visitors. You have to apply online, but it's worth the trouble. Take a guided tour, as the route through the Wave is confusing. You won't get lost. See the stunning colored trails as you hike through the rock.
Address: Marble Canyon, AZ 86036
Website: www.thewave.info
Also Read: Top 20 Attractions You Must Visit in Arizona
8: Simsbury, Connecticut
Rate this attraction:

213

49
You will rarely find a greener place in the US. This is also home of the world's largest sycamore trees. It can be so relaxing to spend a few days in this green paradise, surrounded by these beautiful trees and all that greenery. You can easily visit another state from this corner of Connecticut, so Simsbury can be a nice hideaway. It's a great place for exploring New England cities.
Address: Simsbury, CT
Website: www.simsbury-ct.gov
Also Read: Top 10 Tourist Attractions in Connecticut
9: The Crooked Road: Virginia's Heritage Music Trail
Rate this attraction:

361

48
This is Virginia's heritage music trail. The trail takes you through hundreds of attractions, both modern and historic. Choose the attractions well because you cannot possibly see all of them in one visit. Many of them are indoors, while others are outdoors. You don't have to love country music to appreciate the spectacular rural scenery of this part of the United States. And naturally, it's a must visit if you appreciate good music and melodies.
Address: 1 Heartwood Cir, Abingdon, VA 24210
Website: www.thecrookedroad.org
Also Read: Best Things To Do in Virginia
10: Split Rock Lighthouse State Park, Minnesota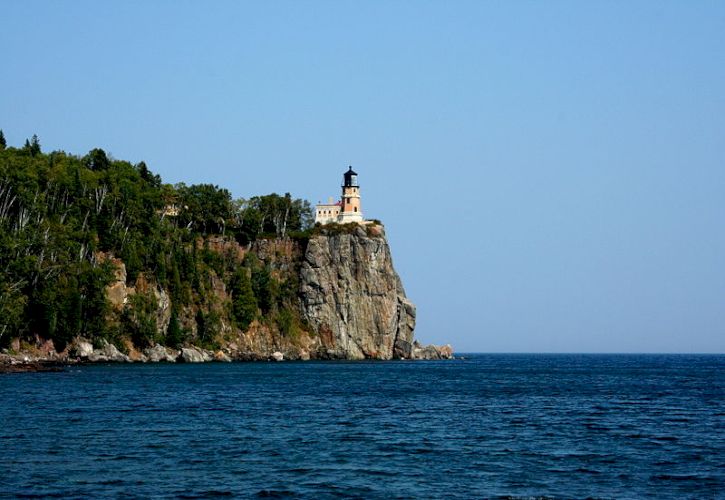 Rate this attraction:

366

44
Perched on top of Lake Superior, the lighthouse was operational between 1910 and 1969. Now, hundreds come here for a tour of the lighthouse and the 25 acre park surrounding it. Walk along the Gitchi-Gami State Trail to catch wonderful lakeside views. There are campgrounds for overnight stays. You can hike, bike or do skiing. There is also the Split Rock River waterfall.
Address: 3755 Split Rock Lighthouse Road, Two Harbors, MN 55616
Website: www.dnr.state.mn.us
Also Read: Top 10 Most Beautiful Lighthouses in the USA